S&T grad to blog from space
NASA astronaut Sandra Magnus, a Missouri University of Science and Technology graduate, is scheduled to launch into orbit aboard Space Shuttle Endeavour on Nov. 14. The space shuttle will drop Magnus off at the International Space Station for a four-month stay, during which time she will be contributing to a Missouri S&T blog aimed at getting more kids interested in science.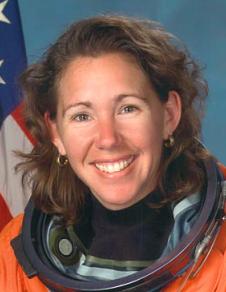 Last July, kids attending Aerospace Camp at Missouri S&T wrote down questions for Magnus (pictured at right). She has provided answers to some of those questions in advance of her trip, and she'll also be checking in from the space station. The questions and answers, along with other commentary from Magnus and interactive NASA links, will be available at http://spacebook.mst.edu/ .
Sample questions include:
How long does it take to get out of the Earth's atmosphere?
What is it like to sleep in zero gravity?
How do you go to the bathroom in space?
Is the space station anchored at all?
"The idea of the blog is to get more people interested in science and engineering," says Missouri S&T Chancellor John F. Carney III. "We are grateful to Sandra for helping us reach out to kids while she's orbiting the Earth. We think it's very important to get more young people excited about math, science and engineering."
Elementary school teachers and the general public are invited to follow along and submit new questions for Magnus at http://spacebook.mst.edu/ . Updates will be posted almost daily for the next four months.
Magnus is a native of Belleville, Ill. She received a bachelor's degree in physics from Missouri S&T in 1986 and a master's degree in electrical engineering from Missouri S&T in 1990. She earned a doctorate from Georgia Institute of Technology in 1996.
Magnus joined NASA in 1996. She spent 11 days in space in 2002. During that trip to the International Space Station, she operated Space Shuttle Atlantis' robotic arm.
The primary mission for Magnus and other crew members during this voyage is to install equipment needed to support a six-person crew aboard the space station. Currently, the station only has a crew of three people. Next summer, that number will double.
Space Shuttle Endeavour is scheduled to blast off from Kennedy Space Center in Cape Canaveral, Fla., at 7:55 p.m. on Friday, Nov. 14.