The Jacques Thibaud String Trio to perform Oct. 15
Tickets remain for a performance by the Jacques Thibaud String Trio, a special event presented by Leach Theatre and Brewer Science that will be held at 7:30 p.m. Wednesday, Oct. 15. The performance will be held in Leach Theatre of Castleman Hall on the Missouri S&T campus, 10th and Main streets in Rolla.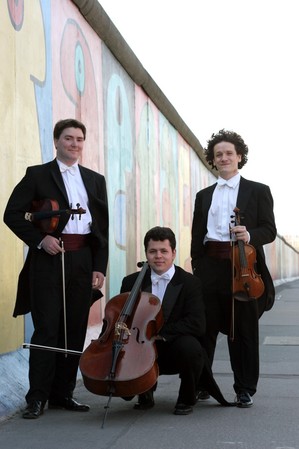 Prize-winners in the prestigious 1999 Bonn Chamber Music Competition, violinist Burkhard Maiss, violist Philip Douvier, and cellist Bogdan Jianu, met at the Berlin School of Art and formed the trio in 1994. The Jacques Thibaud String Trio has performed throughout Europe and Japan and in more than 40 U.S. states, receiving tremendous acclaim from audiences and critics alike.
Calling their playing "spontaneous and commanding," a reviewer from the New York Times said, "this could be the first string trio in some time to have a major career. The overall excellence of these technically accomplished players does not obscure their individual qualities. These musicians are clearly on a mission to bring attention to the neglected string trio repertory. But they are also having fun. It's the best combination."
Tickets are $28 for adults and $18 for students. For more information about Leach Theatre events, call the Leach Theatre Box Office at 573-341-4219.
The Jacques Thibaud Trio is presented in sponsorship with public radio station KMST.