Researchers help build 'Internet for energy' through new NSF center
Posted by news

Missouri University of Science and Technology is one of seven universities
in the United States and Europe involved in a new National Science Foundation
research initiative that aims to transform the nation's power grid into an
Internet for energy that will speed renewable electric-energy technologies into
every home and business.
Missouri S&T is one of five U.S. universities in the NSF's Energy
Research Center for Future Renewable Electric Energy Delivery and Management
(FREEDM) Systems. The new center, announced today (Thursday, Sept. 4, 2008) by
the NSF, will be led by North Carolina State University and also includes
universities in Germany and Switzerland.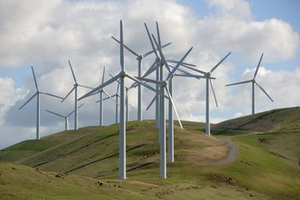 The center will be supported by an initial five-year, $18.5 million grant from NSF with an additional $10 million in institutional support and industry membership fees. More than 65 utility companies, electrical equipment manufacturers, alternative energy start-ups and other established and emerging firms have committed to joining this global partnership, according to the NSF.
"We're excited to be playing a lead role in helping to solve the nation's energy infrastructure problems in collaboration with our university and corporate partners through this new initiative," says Dr. Mariesa Crow, the Fred W. Finley Distinguished Professor of Electrical and Computer Engineering at Missouri S&T and director of the university's Energy Research and Development Center. "Our university has a long tradition of excellence in power engineering, and our expertise in that area, combined with our emphasis on addressing the pressing energy issues of our time, allow us to make unique contributions to this
research effort."
Transforming the nation's power grid is vitally important as
alternative-energy technologies prepare to flood the marketplace. Center
researchers foresee widespread adoption of plug-in hybrid cars over the next
several years, for example, but today's power grid would not be able to handle
energy demand during peak charging times, such as when people return home from
work in the evening. The smart grid developed at the center will also allow
consumers to sell energy back to the power companies when demand is low,
preparing the utilities for times when demand is greatest.
At Missouri S&T, Crow is joined by faculty from electrical and computer
engineering and computer science to develop next-generation power transformers,
distributed power grid intelligence, and ways to incorporate wind power and new
energy storage technologies. Crow and Dr. Medhi Ferdowsi, assistant professor of
electrical and computer engineering, are working to develop plug-in technology
for hybrid vehicles. Working with Crow are Drs. Badrul Chowdhury (professor of
electrical and computer engineering), Keith Corzine (associate professor of
electrical and computer engineering), Mehdi Ferdowsi (assistant professor of
electrical and computer engineering), Jonathan Kimball (assistant professor of
electrical and computer engineering) and Bruce McMillin (professor of computer
science).
Joining North Carolina State and Missouri S&T in the FREEDM project are
Arizona State University, Florida A&M University, Florida State University,
RWTH Aachen University in Germany and the Swiss Federal Institute of Technology
in Switzerland.
More information about the research may be found on the FREEDM center
website, www.freedm.ncsu.edu .