Fall 2008 Career Fair: students in high demand
Even in a tough economy, the future looks bright for Missouri University of Science and Technology students. A record number of employers visited the Missouri S&T campus Tuesday, Sept. 23, to try to convince some of the most highly sought after college students in the nation to come to work for their companies.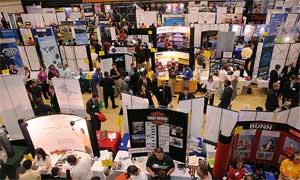 Nine hundred recruiters representing 301 employers from 39 states and Canada attended the Missouri S&T Fall 2008 Career Fair. That amounts to one employer for every 20 students enrolled at Missouri S&T. A total of 117 Missouri employers attended the event.
"Today's Missouri S&T students are the future engineers, scientists, and business and community leaders who will work to solve our nation's energy and environmental problems, address our infrastructure needs, and ensure we remain a leader in the global economy," says Missouri S&T Chancellor John F. Carney III.
Missouri S&T graduates have the highest starting salaries in the Midwest, according to a recent report by Payscale Inc., a Seattle-based research firm. "Our students are very academically inclined and employers experience the value gained by hiring them," says Lea-Ann Morton, director of S&T's Career Opportunities Center.