A conversation with student veterans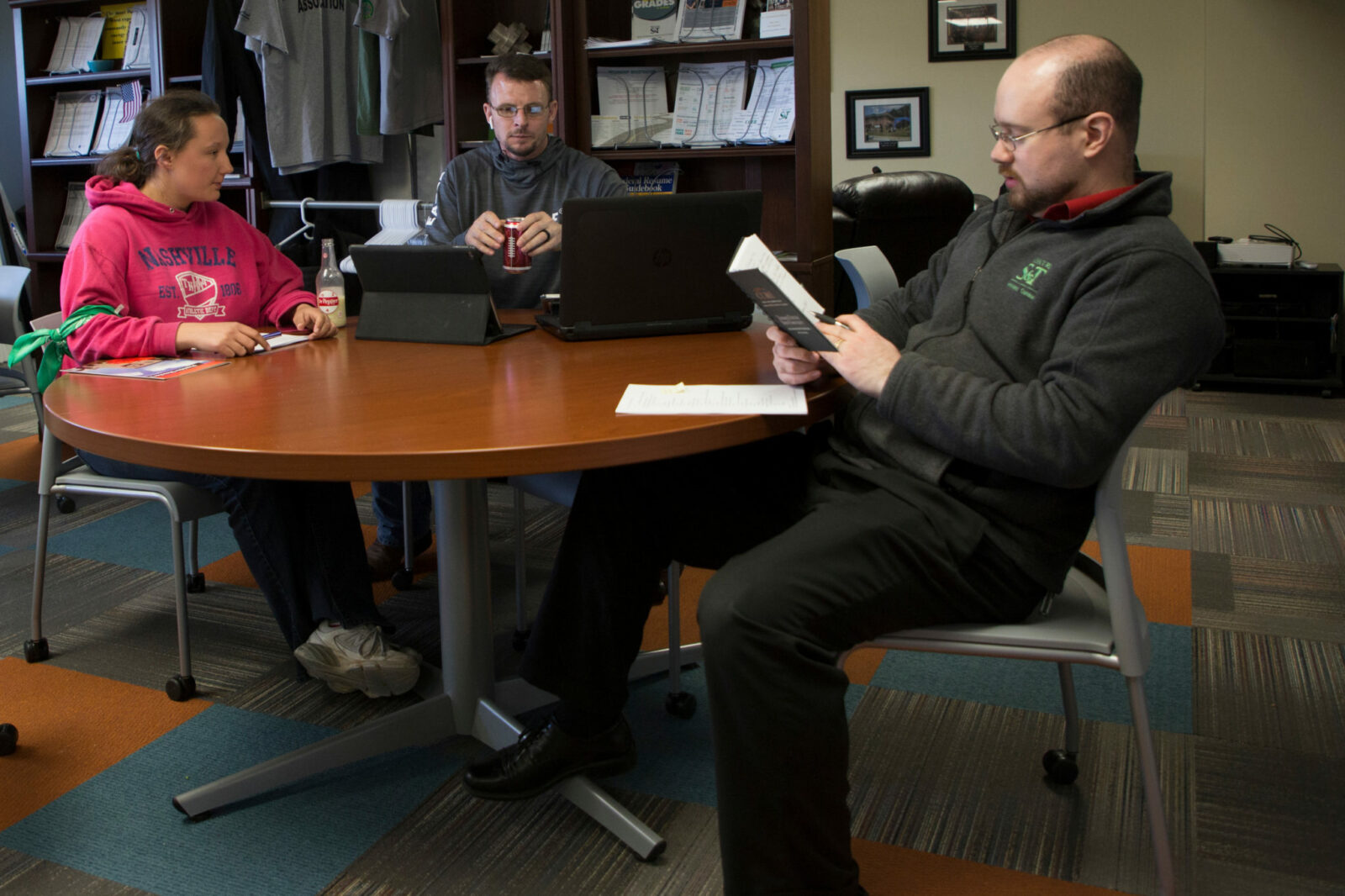 This story is a part of a series of articles about campus climate issues that were brought to light by the university's campus climate survey, the results of which were presented in September 2017.
"I'm around a group of true heroes." That is the first thing Ben Bridges, president of the Student Veteran Association (SVA) at Missouri S&T, says when he's asked to talk about Missouri S&T students who are also military veterans.
"When people think about vets who have made a difference, they think of folks far away in a foreign country or having served in a World War – but we have them right here in our student body," says Bridges, a senior in engineering management from Diamond, Missouri. "What other students don't realize is there may be a Purple Heart recipient sitting next to them in their calculus class."
Bridges is a Navy veteran, having spent his time in cryptology, listening to Morse code all day. As SVA president, he oversees the activities and helps organize events, like the biannual barbecue held at Missouri S&T's Student Veteran Resource Center (SVRC) on Career Fair days.
"We have our own in-house study sessions and everything," says Bridges. "We help keep each other engaged in school."
Building support
The SVA was formed in 2013 and quickly grew in membership. In 2015, the SVA and S&T were awarded the $10,000 Vet Center Initiative Grant from Home Depot and the Student Veterans of America. The grant helped advance SVA's objectives and its partnership with campus. The student veterans and the S&T campus community collaborated to create the SVRC. They renovated, furnished and decorated S&T's first veterans center, located inside the Baptist Student Union, with study areas, a lounge with recliners, campus computers, equipment and Internet service, along with snacks and coffee.
The facility opened in spring 2016. It was designed to help all student veterans reach their educational goals.
Part of an outreach and support initiative for student veterans at S&T, the SVRC is designed to connect vets with campus resources, but it also provides a space to relax and study. Student veterans have access to an advisor and veterans resource coaches to answer questions and help with academic skills, and a repository of information on transition issues and Veterans Administration (VA) resources. In the two years it has been open, the number of GI Bill students at S&T has risen from 198 in 2014 to 345 in 2018.
"I don't think people in the campus community realize that there are so many student veterans here at S&T," says Garrett Coffey, student support specialist in the SVRC and an Army veteran who earned a bachelor of science in engineering management in 2014 and a master of science in systems engineering in 2018, both from Missouri S&T. "We try to help students toward their future goals. We focus on classroom and bureaucratic support."
The students often face issues associated with the GI Bill, and it helps to talk to someone face-to-face. The number of waivers and exceptions to rules can be daunting for newer applicants.
"That is where we come in," says Coffey. "We help the students deal with all the red tape and point them in the right direction for things like financial aid and academic advising."
Challenges remain
One problem that Bridges sees within the veteran group is that most are reluctant to ask for help.
"Something that the students need to work on is when classes are tough, or they need the Testing Center's accommodations, they have to bring it up," says Bridges. "In the military, it is often seen as a sign of weakness to ask for help."
Veterans, being non-traditional college students, bring their prior commitments with them to school as well, Bridges says. Kids, mortgages and work raise hurdles for student veterans to study.
"Another issue that often arises for students is that the changeover to civilian life can be catastrophic for some," says Bridges. "The military is a well-oiled machine with structure and a time and a place for everything. College is a shotgun blast of 'What do I do next?' questions."
The center has started to use what it calls the "transition process" to ease students' change in perspective. Students recognize what they have already learned, then go through the "Re-Spec-T" program, a transitional period that helps them to apply their learning in a way that they can successfully move forward in life.
"The center helps because it is a place where your individual problems can be addressed," says Jesse Hassinger, a senior in mechanical engineering from Livonia, Missouri. "Higher education and the college experience is framed around 18-year-olds starting out, so for us there is a lot of gray area. Vets may be coming to school for the second time after trying before their service, and you can be haunted by past performance or GPAs."
"We need to not just be seen as a military-friendly campus, but to actually be a military-friendly and supportive campus," says Steven Tupper, military research and education liaison at S&T. "The student veterans see themselves differently. They are generally very studious – almost to a point of being rigid in their class work – and they have chosen to go back to school despite the challenges."
"Starting school again after a decade is tough," says Brian Lafser, a junior in electrical engineering from St. Peters, Missouri. "In the military you must teach yourself a lot of skills, so learning how to efficiently study or go about an issue may be a little easier."
Lafser, who served in the Marines, says he hasn't visited the SVRC. He believes that he has found his own way to adjust to college life.
"The main thing I was worried about when I started school was relating to others, due to the slight age gap," he says. "The best thing I did was join a student club, in my case it was the St. Pat's Board. It helped me to fit in and feel more at home at S&T."
Dispelling myths
Hassinger, who served in the Marines, says he has witnessed a stigma around student veterans.
"At my past college, there was the idea that every veteran had PTSD or was crazy," he says. "These stereotypes are really challenging to face, since they seem farther reaching than just campus communities."
Missouri S&T interim Chancellor Chris Maples, a veteran of the Army who used the GI Bill to pay for college, echoes that sentiment.
"I was taught to not talk about my service by other vets back in the 1970s," says Maples. "There were no real resources available back then to support student veterans, and the vets I knew stayed to themselves."
Maples says it's important to be there for student veterans who gave their time and energy for the country, but because times and perceptions have changed in the years since his military experience, he cautions that he may not be the best source for advice.
"Their reception is different, and the country's perspective is always changing," says Maples. "That's why I like having what we currently have – help from recent veterans for other recent veterans. They know what their peers are going through way more than I or any administrator ever could."
Celebrating a memory
Three days before Veterans Day weekend, American flags will begin to spring up in the lawn of the Havener Center as the SVA kicks off celebrations with the Heroes Field – a planting of hundreds of flags that represent campus community members, friends and family of S&T affiliates who have served in the U.S. military. Anyone can place a flag on the Heroes Field. They are available between 10 a.m. and 2 p.m. Nov. 7-9 from the SVA's tent that will be near the lawn.
This is just one of the ways SVA members believe the organization can help raise visibility of veterans in the campus community. The group will also be out in force at the final Miner football game on Saturday, Nov. 10, for Military Appreciation Day.
The SVA will soon be featured on Missouri S&T's crowdfunding website, where they hope to raise funds to send more students to the Student Veterans of America's national conference to network and meet with military-friendly job recruiters.
"The center and association provide the students with a team, just like the military is a team," says Tupper, a retired lieutenant colonel in the Army. "The students still share battle stories, but now they are more about the struggles of Calc III."