Walt Branson accepts Wright State position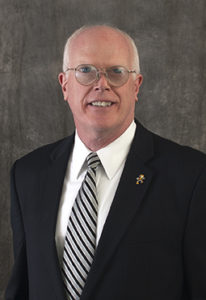 Walter J. Branson, vice chancellor for finance and operations at Missouri University of Science and Technology since August 2013, has accepted a position at Wright State University in Dayton, Ohio. He will become Wright State's vice president for finance and operations and chief business officer. Dr. Cheryl B. Schrader, president of Wright State University who previously served as chancellor of Missouri S&T, announced the appointment today (Thursday, Aug. 10, 2017).
Branson will oversee Wright State's budgeting, planning, internal audit, human resources, business operations and environmental management functions, as well as the campus grounds, maintenance, physical plant operations and police. He will join Wright State on Monday, Sept. 11.
"Walt has been a tremendous part of our leadership team at Missouri S&T over the past four years," says Dr. Christopher G. Maples, interim chancellor. "Although I've only had the pleasure of working with Walt for a short time, it's clear to me that his leadership and stewardship of university resources has served Missouri S&T well during our recent budget realignments, and his approach to fiscal management helped our university be prepared for the current financial climate. Walt will be missed, and we wish him the best at Wright State."
Branson joined Missouri S&T following a 20-year career at Indiana University-Purdue University Fort Wayne (IPFW), where he served as vice chancellor for financial affairs. He also served as interim chancellor of that university from July 1 through Aug. 31, 2012. Prior to joining IPFW, Branson served on the staff of Purdue University in West Lafayette, Indiana, from 1978 through 1993.
While at Missouri S&T, Branson has served as a liaison to the Rolla community as a member of the Transportation Development District board of directors and as Missouri S&T's representative to the Rolla Chamber of Commerce, among other positions.
"These four years at Missouri S&T have been among the most rewarding of my career," Branson says. "I am grateful for the opportunities I've had to serve the campus and the community. I will miss the wonderful students, faculty and staff here, as well as the community of Rolla."