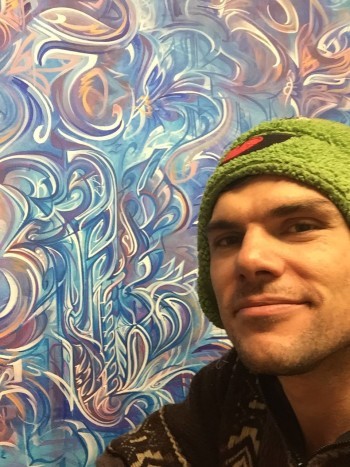 Derek Carpenter's life came to a standstill in December 2012.
Fresh out of college with a bachelor of science in mechanical engineering from Missouri S&T, he was ready to move home to Colorado to start his career as a lab manager.
Then the diagnosis came. On a routine checkup, he was diagnosed with Hodgkin lymphoma. He went through eight months of treatment that kept him often bedridden, and often in debilitating pain.
"I had a lot of time to step back from all my plans," Carpenter says. "And that's when I started drawing a lot."
Carpenter used art as a way to cope with his uncertain future. Now he looks back at those eight months as a blessing.
"In life, we get into our patterns. We're carrying around a lot of plans and intentions," he says. "They were all kind of taken away from me.
"I was just wiped clean as far as activity. It was a blessing, in a way, because I got to look at life from a more fundamental perspective and spend a little more time with myself in a vulnerable place."
Out of that period came Art of One, a singular art project through which Carpenter connects to the world, and with his spiritual side.
"Meditation and spirituality arise naturally from periods of suffering and wanting to know answers. Art of One is a reflection of all that," Carpenter says.
Carpenter's art has been described as visionary, psychedelic and surreal. He often uses sharp and symmetrical lines to create patterns connecting geometric shapes into comprehensive, interconnected pieces.
"The realization that everything is connected has truly been absorbed in my art," he says. "And so, when I say Art of One, I mean that all of existence is one thing, and that is the doer of the art."
Carpenter says his Missouri S&T education has provided structure and discipline to his work. And his engineering background informs his artistic style.
"The engineering background kind of shows up in my art because there's a lot of geometry and measurements in it," he says. "I've found that art and engineering can be synergistic.
"The discipline of keeping your mind performing as an engineer is just good for life, in general," he says. "It keeps your mind healthy, and your body healthy. It supports my art, my main passion."
Carpenter's preferred medium is colored pencils.
"Colored pencils are cool because when you do an entire image, all by point, it's like a very gradual, and, therefore, controlled process," he says.
Carpenter has also taken to animating his artwork using Photoshop, turning his surrealist drawings into mind-melting apparitions.
Carpenter says that he's always been a drawer or "doodler," but didn't take his craft seriously until his last semester of college.
"I've always had this inclination to make art and be an artist, but I was always putting it off for some reason," he says.
Carpenter had saved some elective credits and decided to take two classes – sculpting and painting – with Luce Myers, assistant teaching professor of art.
"It was a really free environment, which was cool for creative expression because it was coming from wherever it comes from," he says. "It was just a super free and happy place."
Carpenter has kept in touch with Myers, even emailing her some of his artwork. Myers, in turn, included some of Carpenter's work in a paper she recently co-authored with Dr. William Schonberg, professor of civil, architectural and environmental engineering, called "Art and Technology." The paper is currently being peer-reviewed. Myers says the hope is that it will be presented to art museums with the idea of including more technology in their outreach programs.
Carpenter has a robust social media presence on Instagram and Facebook, with almost 60,000 "likes" on Facebook. He says that an online presence is essential for an artist these days. So is in-person networking.
"If you look at art as a career, that's where a lot of the work happens. You have to connect with people and maintain relationships and put yourself out there. And have a social media outlet and all kinds of things," he says.
Carpenter balances his passion for art with a full-time job and rewarding career in engineering. He is currently the manager of the Structures Laboratory at the University of Colorado in Boulder.
"I love painting and drawing so much, and I get lots of positive feedback, but at the same time I have responsibilities and people who need me," he says. "And so kind of where I'm at right now is that the universe has invested a lot of energy to make me an engineer. I feel like it'd be irresponsible to get that education and only pursue it for a short while."
Carpenter plans to continue to make art on the weekends and in his free time. He sells his artwork on his website, where he also sells men's and women's apparel featuring his visionary designs. He donates half of his profits to charitable causes like Ecocycle, a center in Boulder, Colorado, that processes recyclables, and Canine Partners of the Rockies, a group that trains service dogs and helps get them to people in need. He has even given proceeds from his work to homeless people he's met while painting in local parks.
Carpenter is almost completely cured of Hodgkin lymphoma. He says he will have one last check up, where he expects to get a clean bill of health.