Alumna draws, talks 'trash'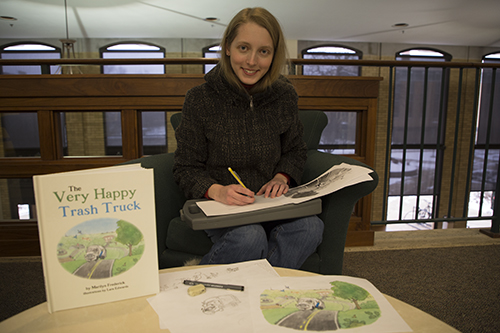 A Missouri S&T biological sciences graduate and aspiring artist has illustrated her first book, and it has a decidedly Rolla and mid-Missouri flair to it.
Lara Edwards, who graduated from S&T in December 2013 and is pursuing a master's degree in biology at the University of Missouri-St. Louis, did the illustrations for Rolla author and speech therapist Marilyn Frederick's The Very Happy Trash Truck, which documents the daily exploits of Timmy the Trash Truck. The children's book was recently published by Steeple Publishing Company and is available on Amazon.
Edwards, herself a Rolla native, painted the mural in the Leola Millar Children's Library in the Rolla Public Library when she was a student at Missouri S&T. She has also painted several murals in Sunday school classrooms at the First United Methodist Church in Rolla, where she is a member.
Edwards and Frederick, who is also a member of First United Methodist Church, connected through a mutual friend, and spent the greater part of last year writing and illustrating the children's book.
Edwards used a traditional approach to illustrating the book.
"I did not do this digitally. These are actual, physical water colors," she says, pointing at an illustrated page. "I'm still doing it in a very old-fashioned, traditional way."
Edwards says her main inspiration as an artist has always been Beatrix Potter, author and creator of Peter Rabbit.
"I read Beatrix Potter books a lot as a little kid," she says. "Her illustrations are very soft, very organic, very lively and variable water color and ink illustrations.
"I always hoped that if I ever became an illustrator that I could do that too. I'm certainly no Beatrix Potter, but I can see why she used that method."
Edwards considers this way of illustrating books a dying art form, and one that is hard to replicate via digital illustrations using computer programs.
"I don't know if that look will ever be perfectly imitated in software," she says. "It's getting harder and harder to find folks who illustrate that way. And it is for good reason."
Edwards says that hand illustrating and painting can be time-consuming, especially when making edits.
To illustrate The Very Happy Trash Truck, Edwards started with card stock, penciling in her illustrations using waterproof India ink pens. Then she would make a copy of the page, and watercolor either the original or the copy.
As a graduate student with a full-time job, Edwards had to manage her time proficiently in illustrating the children's book.
Edwards says that each page took about four hours to illustrate, although some took much longer. She specifically mentions a page featuring a brick building.
"You have a nice brick building that you pencil in with rough lines," she says. "Then you start to ink it with a little mortar and get crusty edges. Then you get five bricks in and look at the whole building and think, 'What have I done to myself?' Then it takes six hours. That's why there's only one brick building in this book."
Edwards says that she and Frederick had to do a surprising amount of research to illustrate the children's book.
One scene in the book takes place in the rain, so Edwards and Frederick had to track down a waste collector and ask them what they wear when it's raining.
"We were making some copies of some other pages and we saw the truck," she says. "We ran over and said, 'Hey, hey, hey, we have a question. What do you do when it's raining and you're collecting trash?'"
Edwards says she also had to go to the Phelps County Transfer Station several times to memorize what it looked like for another scene.
"We have a few people we'd like to give a free book to because they don't realize how much they helped in answering our questions," Edwards says.