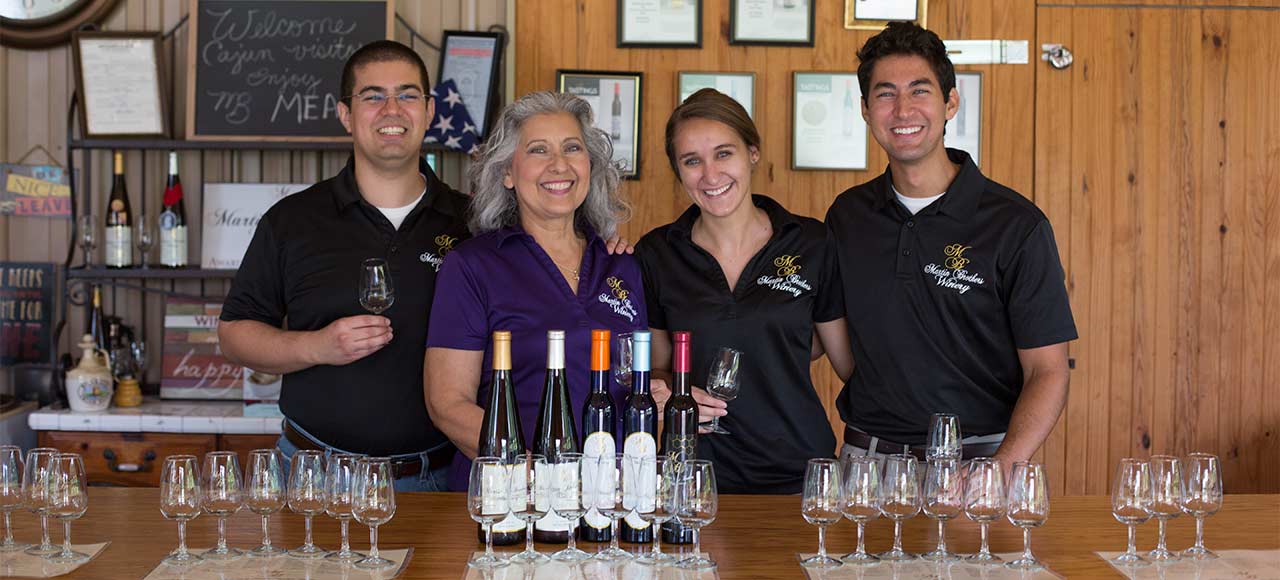 One Missouri S&T alumnus reached deep into the past to determine his and his family's future.
Patrick Martin graduated in 2011 with degrees in chemistry and biological sciences. Today he practices the ancient art of mead-making at his family's winery, Martin Brothers Winery, using his extensive education and passionate interest in microbiology as his muse. His mead has garnered acclaim and a bevy of international awards for the Hermann, Missouri-based winery. The accolades include a gold-award-equivalent Medal of American Excellence for his Orange Blossom Mead at the 2015 Jefferson Cup Invitational Wine Competition in Kansas City, Missouri, and a gold award for his Wildflower Sweet Mead in Beverage Testing Institute's 2014 World Honey Wine Challenge in Chicago, Illinois.
Mead, made from honey, is considered the oldest alcoholic drink known to humankind.
Martin Brothers Winery hand selects honey from beekeepers across the country and continent. The honey is what gives the mead its different, naturally occurring flavors. Martin Brothers' Wildflower Sweet and Wildflower Dry meads are indeed made with wildflower honey, while the meadery's Orange Blossom Mead is made with honey from the blossoms of orange trees. The Orange Blossom Mead is creamy, smooth and slightly sweet, like a liquid Creamsicle; the Lucerne Blossom Mead is floral, with hints of clove and lavender. Unlike some commercial meads, there are no flavorings added to Martin Brothers' meads, no back sweetening, no spices, and no benzoates or sorbate preservatives; only honey, yeast and oak.
"What it says is what it is," says Martin. "We don't add anything to cut it down."
The fermentation process is where Martin's expertise in microbiology and biochemistry really comes into play.
"It all begins with grade 'A' premium honey and then we ferment it. We add our yeast and our oak," he says. "We just have to baby the yeast and make sure it's as happy as can be. It's all about making the yeast happy."
Fermentation happens in the meadery's fermentation room, which has the makings of a microbiology or biochemistry lab. Beakers and test tubes line tables between fermenters and oak barrels. It is here that Patrick works his mead making magic.
He takes the handpicked honey and adds yeast to it. The yeast consumes the sugar in the honey. For every one mass unit of sugar, half a mass unit or less of alcohol and half a mass unit of carbon dioxide is produced.
But it's not that simple. Honey is rich with flavor, as well as inert molecules. As a microbiologist, Martin uses yeast to break down different honey molecules, pulling them apart or splitting them in two to see what they taste like.
"For example, we know there are these molecules that are kind of floral, but if we split the parts they're even more floral," he says. "The yeast just helps bring the flavors forward."
And Patrick does taste his reactions.
"Understanding taste is an amazing thing because all throughout four years of chemistry class, we were told to never smell, never taste because it's too dangerous. But yet here we are tasting these reactions as they occur," he says. "At first it was a complete shock, but now it's wonderful because we're tasting (the mead) every step of the way.
"What I learned at S&T is paramount," he says. "Anyone can make mead. But will it taste good? That's where when to do it and how to do it comes in."
Martin's mother, Esther, founded Martin Brothers Winery. His father, Danny, lends his business expertise and support.
Esther and Danny bought a farm seven miles south of Hermann off Highway 100 in 2002. Martin's two older brothers, Nicholas and Jonathan, began growing grapes on the property shortly thereafter with the intent of selling the grapes to local winemakers. At the time, Nicholas was in culinary school and Jonathan was working at a local winery. Martin and younger brother Derek were still studying at S&T. After learning about mead and alcohol in class, Nicholas, with the help of Jonathan, made a small batch of mead. The Martin brothers entered an amateur winemaking contest in 2010 hosted by WineMaker Magazine, and out of some 3,000 entries, took gold in the Traditional Wildflower Sweet Mead category.
"With that, we knew we had a good product," says Esther.
Martin joined the winery business full-time after he graduated from S&T in May 2011, and set to making the first four commercial batches of Martin Brothers' mead.
Martin Brothers Winery sells products at over 40 retail locations in Missouri. The meadery ships products nationally through Brown Derby International. They built a guided tasting bar and opened it to the public in May 2014. Since opening its doors, Martin Brothers has been awarded 15 international and national awards.
Jonathan has since joined the U.S. Navy and Nicholas is a culinary chef in Portland, Oregon. Derek graduated from S&T with a degree in mechanical engineering in May 2016. Derek's girlfriend, Anna Wallace, graduated from S&T at the same time with the same degree. Derek and Anna, who met on the S&T Formula SAE racing team, handle the operations and marketing aspects of the winery.
Photos by Sam O'Keefe