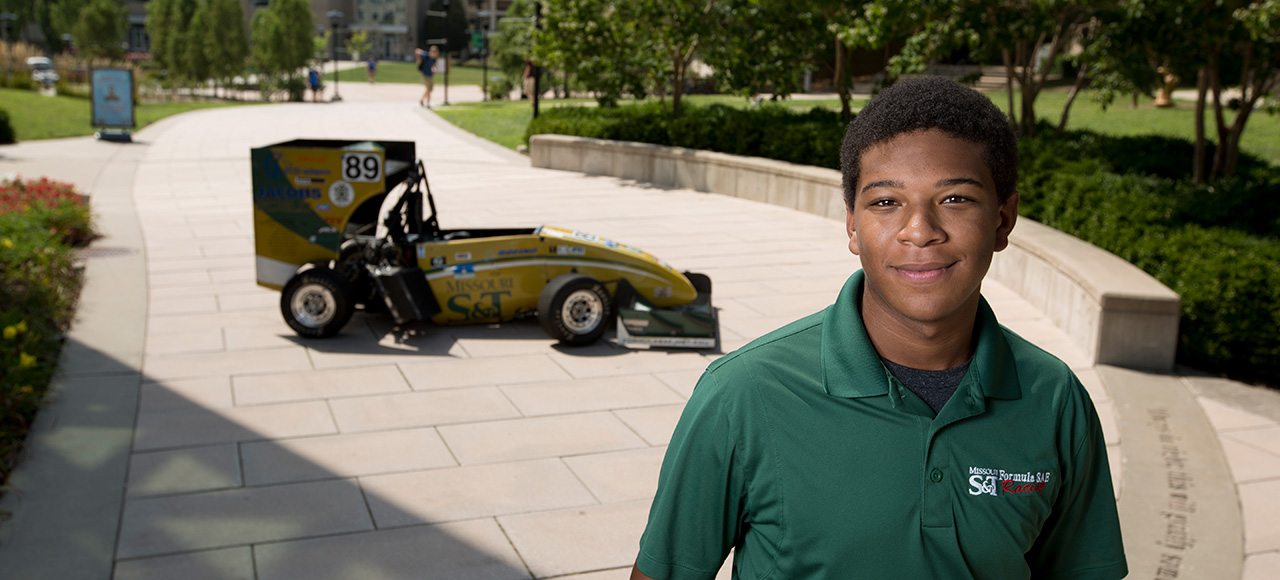 Jarrett Harkless looks to guide Formula SAE team to new heights
Most high school guidance counselors encourage prospective college students to apply to as many as eight schools – from dream destinations to likely matches to safe selections where the odds of acceptance are sky-high.
At Timberland High School in the St. Louis suburb of Wentzville, Jarrett Harkless had little interest in that well-worn formula. A classroom poster of an open-wheel, student-designed and built race car instead guided the sophomore mechanical and aerospace engineering major toward a different formula — the Formula SAE racing team at Missouri S&T, the lone university Harkless considered attending.
"That's the biggest reason I'm here," says Harkless, who in his third year on campus leads one of S&T's oldest student design teams. "That poster is why I'm at the university. There was no other option. I was going to S&T and that was it."
Harkless caught the racing bug after taking a series of high school engineering classes through Project Lead the Way, a nonprofit organization that works to boost K-12 education in computer science, engineering and biomedical science. Missouri S&T is the state affiliate for the national program, with hundreds of educators from across Missouri and the country coming to Rolla each summer for teacher training.
His path to higher education practically predetermined, Harkless was so steadfast in his choice that he didn't even feel a need to visit S&T ahead of time. After arriving on campus for the first time for orientation, he immediately gravitated to the race team's shop on Collegiate Boulevard, a place that he would quickly call home.
Last year, Harkless was the team's manufacturing lead and its chief frame manufacturer. In that role, he spent most of his Thanksgiving break working – and sleeping – in the shop to meet a tight deadline to complete frame construction.
"Jarrett is very self-motivated and also good at motivating his teammates," says Hank Pernicka, an associate professor of mechanical and aerospace engineering who serves as the team's faculty advisor. "His teammates all like and respect him – and are fully on board with our vision of maintaining and improving the world-class standing the team has achieved over the years."
On the track, the Formula SAE team's recent performance has been impressive.
In May, the squad finished seventh out of more than 100 teams from the U.S. and abroad competing at Michigan International Speedway. One month later came a first-place win at the Formula North competition in Toronto, Canada – a victory Harkless calls the first by a U.S. school at that event. That was soon followed by a fourth-place finish at a Lincoln, Nebraska,race which Harkless compares to the sport's national championship, though it also included student teams from Brazil, Canada, India, Japan, Mexico and South Korea.
"We're very proud of where we are as a team, going toe to toe with these giants and still doing really well," he says.
The competitions include a skid-pad event to test a car's maneuverability on a figure-eight-shaped course; an acceleration test to measure speed over short distances; and an endurance race to test durability.
The Formula SAE team is one of 15 student design teams at Missouri S&T. The student-led teams not only design and build race cars, rockets, robots, concrete canoes, solar homes and more, but also develop business and marketing plans while working with advisers both in industry and on campus. Other teams use synthetic biology to create genetically modified organisms and work to build infrastructure in Central and South America.
Those experiences stand out among workplace recruiters. Harkless easily reels off names of former teammates who now work for companies such as Tesla Motors, the electric car manufacturer, and Hendrick Motorsports, a top NASCAR racing team.
Harkless expects that he too may join their ranks after graduation. But for now, he's too busy – and having too much fun – preparing for the 2017 competition season to plan the particulars of his post-college path.
"It's such a great opportunity," he says. "I've learned so much just from working in the shop."