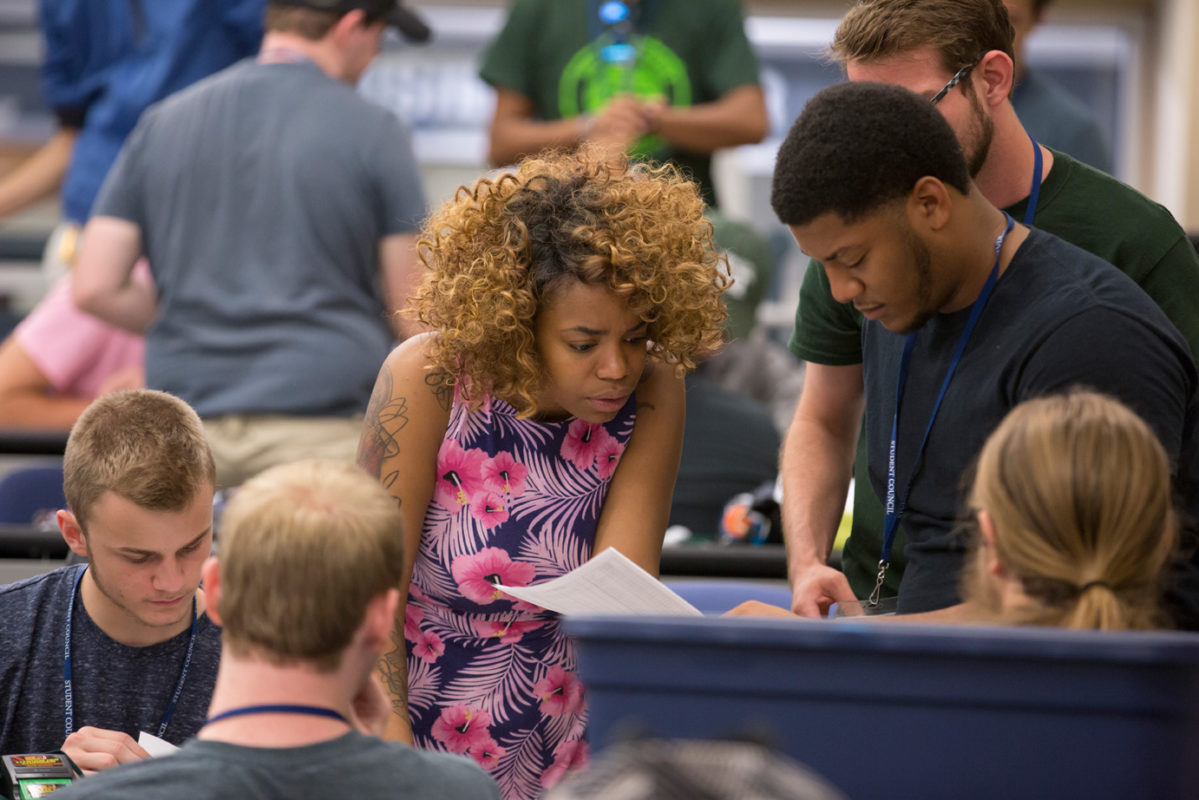 Horatio Alger Scholar finds a home at S&T
After spending most of her youth living off and on with relatives, Mikayla Bridgewater was homeless at age 15 – just days before her sophomore year of high school was to begin.
Her alcoholic mother was incapable of caring for her, so Bridgewater spent her childhood living with relatives. "I was unfortunately around a lot of drugs and alcohol, growing up in a bad environment," says Bridgewater, a native of Kansas City, Missouri.
She was shuttled back and forth between two aunts while growing up. The arrangements were often contentious, and by the time Bridgewater was about to become a high school sophomore, she found herself no longer welcomed by either aunt.
A former babysitter opened her home to Bridgewater as her sophomore year began, but Bridgewater faced yet another challenge: How would she afford tuition at her private college-prep school, Cristo Rey Kansas City High School? With a mission of serving students with economic need, Cristo Rey is one of the most affordable private schools in Kansas City. Bridgewater's aunt covered the modest costs the previous year. As Bridgewater entered 10th grade, she had a roof over her head, but no financial support.
Determined to continue her studies at Cristo Rey, Bridgewater told high school counselors about her situation. They put her in touch with donors, who agreed to cover her tuition and transportation costs until she could find work and cover those expenses herself.
That November, Bridgewater turned 16, found part-time work in a fast-food restaurant, began paying her own way, and even reconciled with her aunt and moved back in with her.
The interventions – by a former babysitter, school counselors and donors – combined with Bridgewater's determination, paid off. She continued to work part time during her sophomore year, shifting from fast food jobs to working as a lifeguard in Kansas City community centers. She studied hard, knowing that good grades would be key to her future success.
"That was my first year of straight A's," she says. "I was really focused and determined."
Last spring, Bridgewater graduated as valedictorian of her high school class. Today, thanks to support from the Dell Scholars Program and the Horatio Alger Association, she is ready for the next chapter in her life at Missouri S&T, where she plans to pursue degrees in environmental engineering and chemical engineering.
Overcoming misfortune
In the mid-1800s, American author Horatio Alger wrote popular rags-to-riches novels about children born in hardship who went on to become successful in life through their hard work. Today, the Horatio Alger Association awards scholarships each year to a select group of high school seniors who succeed despite their misfortunes. Bridgewater is one of this year's Horatio Alger Scholars.
She also received funding through a scholarship program established by the Michael and Susan Dell Foundation (Michael is the founder of Dell computers). According to the foundation's website, The Dell Scholars Program supports "low-income, highly motivated students" who "demonstrate the drive to succeed despite personal obstacles."
Bridgewater certainly fits that description.
Both scholarships give Bridgewater a sense of financial security that she never has experienced in her young life. "This gives me peace of mind" as she begins her studies at Missouri S&T, she says. "I always had to work through high school. I didn't want to have to hold a job in college. I just want to focus on learning."
Two instructors at Cristo Rey encouraged her to consider a path toward engineering and Missouri S&T. A physics teacher in ninth grade spotted her academic potential and interest in science. "He said, 'Mikayla, have you ever thought about becoming an engineer?' I didn't really know what an engineer did, so I started learning more about engineering."
During her sophomore year, a math teacher encouraged her to take a look at Missouri S&T. And she did, visiting campus through the National Society of Black Engineers' Pre-College Initiative (PCI) program coordinated by S&T's office of student diversity, outreach and women's programs.
"I loved Rolla, and I kept coming back," she says. "I've been to PCI two or three times."
The campus "was small enough that I could know a lot of people but big enough where I could meet new people every day," Bridgewater says. "Everybody was so nice there. People remembered my name. I could see myself growing there."
When she finishes college and begins her career, she's looking forward to establishing a scholarship to help support students from disadvantaged backgrounds, like hers. "I want to create a scholarship for kids in need," she says. She already has two potential scholars in mind: two children of her cousins, now ages 3 and 1. "I want to be able to help them have the same opportunity that I've been given," she says.
As an entering freshman, Bridgewater says she is "looking forward to learning and growing into my full potential. I think I'm really going to be challenged at Rolla, and it will help me to grow in a different way. I'm looking forward to that."
It seems that she has finally found a home at Missouri S&T.