Elmore named an ASCE Fellow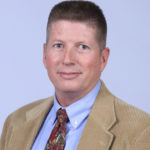 Dr. Curt Elmore, professor of geological engineering at Missouri University of Science and Technology, has been named an American Society of Civil Engineers Fellow.
Elmore has spent the last 30 years in the water resources and environmental engineering field. Before joining the Missouri S&T faculty in 2001, he was a consulting engineer specializing in remedial design at large formerly used defense Superfund sites.
His technical expertise includes the design and study of green and sustainable remediation systems, sustainable point-of-use drinking water systems in developing areas and renewable energy microgrids.
One of the many projects he has initiated combines his teaching role with international educational activities that put students at the forefront of developing clean water supplies in remote areas of Central and South America.
Beyond the technical aspects of these international visits, Elmore has created educational programs for children and adults in these villages to combat the superstitions and traditions that limit clean water use. He also promotes engineering among female students and initiated a summer camp for junior and senior girls focused on renewable resources and water purity.
A student who travelled with Elmore on an international visit said, "It was one of the best educational experiences of my life. … His program truly helps students understand how the abilities gained through education can be used to make a profound impact on the world in which they live. I, along with countless other students, owe him a debt of gratitude for helping me to find my true calling in life."
Elmore co-founded the ASCE Margaret S. Petersen Award to recognize the contribution of outstanding women in the field of water resources and environmental engineering, and he chaired the Environmental & Water Resources Institute Education Council and founded the Students Council.
He has received multiple awards for service, teaching and faculty excellence. The University of Missouri System awarded Elmore the C. Brice Ratchford Memorial Fellowship in 2010 and the President's Faculty Award for Cross-Cultural Engagement in 2014.
Elmore earned a bachelor of science degree in geological engineering from Missouri S&T in 1986. He earned master of science and Ph.D. degrees Ein civil engineering from the University of Arizona in 1988 and 1991, respectively.
###