S&T Diplomacy Lab projects need student help
The United States Department of State has selected two Missouri University of Science and Technology bids for autumn 2015 Diplomacy Lab projects. Undergraduate and graduate students are needed for both projects, says Dr. Daniel B. Oerther, the John A. and Susan Mathes Chair of environmental engineering and a professor of civil, architectural and environmental engineering at Missouri S&T.
Missouri S&T and Stevens Institute of Technology are the only two technological research universities among the 20 university partners that are part of Diplomacy Lab.
Oerther spent the past 12 months as a Jefferson Science Fellow at the Department of State, and he serves as the campus coordinator for Diplomacy Lab at S&T.
One Diplomacy Lab project is "Preventing a Future Without Antibiotics." The goal is to deliver a critical review article suitable for publication in a peer-reviewed journal by the end of the 2016 spring semester. The conservation of current antibiotics — termed "antibiotic stewardship" — is important for combating the spread of antimicrobial resistance and preventing the emergence of an era where antibiotics are substantially less powerful in the fight against infectious disease, Oerther says. The project combines microbiology and medical science with social sciences to identify gaps in the world's understanding of individual and collective behaviors that contribute to the spread of antimicrobial resistance. Students and faculty with interests in health sciences and health communication are encouraged to participate.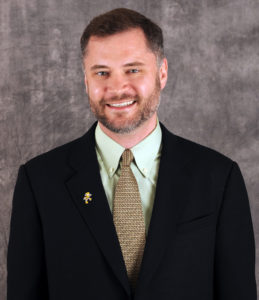 The second Diplomacy Lab project is "Urban Waterscapes: Visualizing an American 'Watergy-Smart' City." The goal is to deliver a video and accompanying virtual 3-D model of a water-smart city that highlights the interface of technology and policy used to create more sustainable cities.
"The nexus of water, food and energy in urban and peri-urban environments — the land between towns and the country —creates challenges and opportunities for urban planning and civil engineering infrastructure," Oerther says.
The Smart Living signature area at S&T is well positioned to contribute to this project. Students and faculty with interests in international humanitarian and sustainable development, technical communication and the urban environment are encouraged to participate.
Diplomacy Lab helps the Department of State involve Americans in the work of diplomacy and broadens its base of technical experts. Diplomacy Lab is designed to "course-source" research and innovation related to foreign policy by harnessing the efforts of students and faculty experts at universities across the country.
Dr. Warren K. Wray, vice chancellor for global and strategic partnerships; Dr. Ian Ferguson, vice provost and dean of the College of Engineering and Computing, and Dr. Stephen Roberts, vice provost and dean of the College of Arts, Sciences, and Business will assist with the effort.
Other Missouri S&T faculty involved in the projects are Dr. Joel Burken, director of the Environmental Research Center for Emerging Contaminants and associate chair of civil, architectural and environmental engineering; Dr. Dave Westenberg, associate professor biological sciences and of chemical and biochemical engineering; and Dr. Amber Henslee, assistant professor of psychological science.
For more information about contributing to these projects, contact Oerther by email at oertherd@mst.edu or by phone at 573-341-6072.
More information about the Diplomacy Lab project can be found online.