UM Curators approve naming of Bertelsmeyer Hall
The planned chemical and biological engineering building at Missouri University of Science and Technology will be named James E. Bertelsmeyer Hall in honor of the graduate whose gift helped to make the building possible.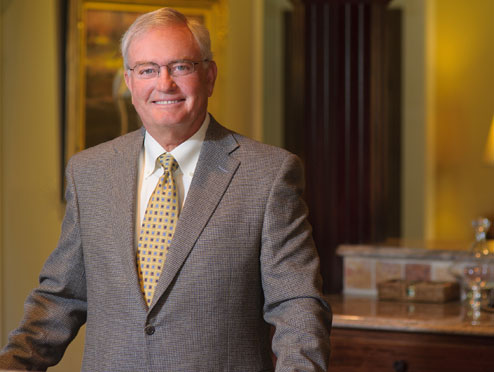 The University of Missouri Board of Curators approved the naming at its April 5-6 meeting at Missouri S&T in Rolla, Mo.
Bertelsmeyer Hall is named for James E. Bertelsmeyer of Tulsa, who donated $5 million toward the construction of the facility. Bertelsmeyer, the retired founder, chair and chief executive officer of Heritage Propane Partners in Tulsa, graduated from Missouri S&T with a bachelor of science degree in chemical engineering in 1966. He is a past president of the Miner Alumni Association, a member and past chair of the Missouri S&T Academy of Chemical Engineers, and a member of S&T's Order of the Golden Shillelagh and the Missouri S&T Board of Trustees.
"I look at this as an opportunity to help the chemical and biological engineering department maintain its reputation as one of the best engineering programs on campus – if not, in fact, the nation," says Bertelsmeyer.
The 68,500-square-foot, three-story building will consolidate teaching and research activities for the chemical and biological engineering department. The architectural firm, Clark Enersen Partners Inc. of Kansas City, Mo., designed the building with a consistent look of other campus buildings and will feature brick and concrete in lighter colors of cream, beige and tan.
The lower level of the facility will accommodate research laboratories and lecture halls, as well as space for mechanical and electrical equipment. The first floor will house research and teaching laboratories, lecture halls, offices and student gathering space. The second floor will house research laboratories and office space. A penthouse will house a laboratory and provide space for a future laboratory and additional mechanical equipment.
On June 17, the Board of Curators approved financing $12.3 million of the $22.3 million project. Missouri S&T has received $8 million in commitments for the project – including Bertelsmeyer's gift – and will combine that with $2 million from other funds.
Construction is scheduled to begin in fall 2012 and planned for completion in May 2014. The facility will stand at the northwest corner of West 11th and State streets.