Outrageous and irreverent, Spamalot comes to Missouri S&T
Even if you're not a Monty Python fan, you'll have an uproarious good time when the cast and props of Spamalot take over Leach Theatre at 7:30 p.m. Tuesday, Nov. 16. The performance is part of Missouri University of Science and Technology's 2010-11 Campus Performing Arts Series.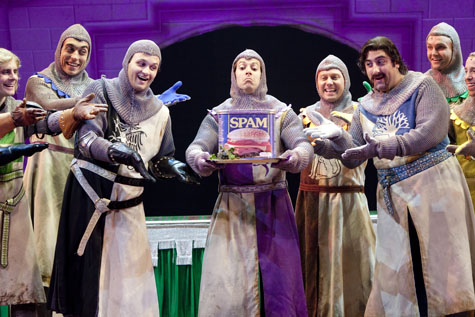 Leach Theatre is located in Castleman Hall, 10th and Main streets in Rolla.
Tickets are $45 for adults and $35 for students and youth and are available online, or from the Leach Theatre Box Office. Box office hours are 9 a.m. to 4 p.m. Monday through Friday. Call 573-341-4219 for more information.
The musical comedy stage adaptation of the film classic Monty Python and The Holy Grail won the 2005 Tony Award for Best Musical. The story of King Arthur and his Knights of the Round Table's quest for the Holy Grail is told with flying cows, killer rabbits, taunting Frenchmen and show-stopping musical numbers.
Leach Theatre will offer discounted tickets through its "Back Row Club" one hour prior to the event, should tickets remain for the show. The seats in the last row of the theater will be sold for $10 each prior to the performance.
Spamalot is sponsored in part by Forum Dental and Andrew Garrett Inc.
Additional funding for the Missouri S&T Campus Performing Arts Series is provided by the Missouri S&T Endowment for the Performing Arts.
For more information about the Missouri S&T Campus Performing Arts Series, call the Leach Theatre Box Office at 573-341-4219 or go online.