S&T historian: 'Grunts,' not technology, win wars
Despite the U.S. military's reliance on technology in modern warfare, American troops on the ground – the "grunts" – have proven to be the crucial difference between victory and defeat, says military historian John C. McManus in a new book about America's ground forces.

The foot soldier has been the most indispensible – and most overlooked – factor in wartime victory, McManus says in his new book, Grunts: Inside the American Infantry Combat Experience, World War II Through Iraq. Published by NAL, an imprint of Penguin, the book is scheduled for an Aug. 3 release.
In Grunts, McManus, an associate professor of U.S. military history at Missouri University of Science and Technology, examines 10 pivotal battles over the past six decades – from the 1944 fight on the island of Guam to today's counterinsurgency combat in Iraq – and concludes that the skills and courage of American troops were the deciding factor in each.
"The true difference makers in wars will be the soldiers on the ground," McManus says. "Now, they need a lot of support, and the technology makes a difference. But in the end, who tips the balance? The guy on the ground."
In Grunts, McManus also suggests that U.S. policymakers adjust military policy to strengthen the infantry.
Policymakers "tend to shrink from the realities of war," says McManus. "It's brutal, it's vulgar, it's violent, it's wasteful, and it tends to be fought on the ground."
Despite the increasing reliance on technology in modern military action – from aerial drones to global positioning systems – ground troops continue to play an important role, McManus says.
"It's only natural that Americans would look toward our strengths, and technology is a strength," he says. "But at exactly the time the ground soldiers were supposed to become obsolete, the exact opposite has happened.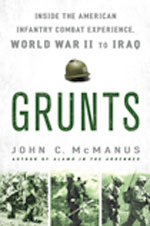 "Based on what's happened in very recent history, I don't believe this will change," McManus adds. "I believe we need to shape our national policy" to emphasize the importance of infantry. For instance, McManus suggests that the Marine Corps and Army receive a larger share of the defense budget.
"Infantry units always seem to be under strength, overwrought and overworked," McManus says. "They do most of the fighting and dying, and yet they get the minority of appropriation in the budget. I just don't see how that can be."
Grunts is the result of nearly a decade of archival research, battlefield visits, personal interviews with veterans and intensive study. "I had enough materials for 10 books instead of 10 chapters," McManus says. The new book is McManus' ninth.
Each of the 10 chapters of "Grunts" portrays an archetypal battle – four from World War II, three from Vietnam, one from Desert Storm and two from the Iraq War. The World War II battles of Guam and Peleliu in the Pacific were examples of amphibious attacks. While Guam was "an example of what happens in an amphibious attack against an enemy that is self-defeating," in which the U.S. was able to exploit Japan's over-confidence, Peleliu was the opposite. In Peleiu, "Japan turned America's cultural vanity against them," and a battle that military brass expected to take three or four days ended up taking three months.
McManus's examination of the 1944 Battle of Aachen in Germany portrays urban combat in which there are no political consequences. This battle stands in stark contrast to McManus' chapter on the urban battle of Fallujah during the Iraq War. Some 60 years after Aachen, the methods of urban combat had changed little, but "politics really impacted what the Americans were able to do." Although American troops technically won Fallujah, they had to withdraw due to international pressure and intense media scrutiny by Al-Jazeera and other Middle Eastern media outlets.
Throughout Grunts, McManus blows holes in the belief that technology was a decisive factor in a battle's outcome. While 1991's Desert Storm was "the ultimate techno-war" with "all this cool, video-gameish kind of stuff" being broadcast daily by CNN, air attacks only inflicted a third of the damage during that war, and Marines in Kuwait were using old technology – bayonets – to locate land mines. "It was a scene straight out of World War I," McManus says.
A member of the Missouri S&T faculty since 2000, McManus is considered one of the nation's leading experts on the history of Americans in combat. A member of the editorial advisory board at World War II magazine and World War II Quarterly, McManus was named to History News Network's list of Top Young Historians in 2007. In 2008, he received the Missouri Conference on History Book Award for Alamo in the Ardennes: The Untold Story of the American Soldiers Who Made the Defense of Bastogne Possible.
McManus is now working on a book about the U.S. experience in Holland during World War II's Operation Market Garden, the largest airborne military operation of all time and the subject of the 1977 movie "A Bridge Too Far."