S&T dominates speed bike competition
The Human-Powered Vehicle Team from Missouri University of Science and Technology took first place in the Human Powered Vehicle Challenge West competition April 23-25 at California State University, Northridge.
Missouri S&T is known for its success in collegiate human-powered vehicle racing. And much of that success stems from the engineering work that goes into designing and building the aerodynamic vehicles, which are recumbent (sit-down) bikes with removable shells.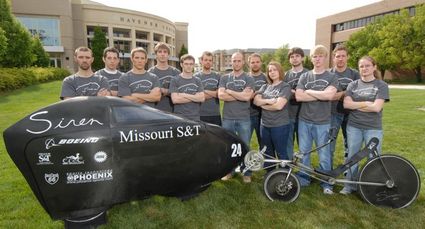 "I think our vehicle intimidates other teams," says S&T's Trent Lauer, a junior in electrical engineering from Rolla. "They were calling it the Batmobile and saying it was scary that you couldn't see inside."
Of course, Missouri S&T's riders also play a big role in winning championships. Whittney Metcalf, a senior in petroleum engineering from Ulysses, Kan., and Adam Jankowski, a senior in mechanical engineering from Marshfield, Mo., both won sprint races (or drag races) in California.
Missouri S&T also dominated the 2.5-hour endurance race that featured four riders: Metcalf, Jankowski, Ethan Faber, a freshman in geological engineering from Webster Groves, Mo., and Jonathan Sanders, a sophomore in aerospace engineering from Webb City, Mo.
The team will now prepare for the East Coast competition May 7-9 at Central Connecticut State University. Annual events on both coasts are sponsored by the American Society of Mechanical Engineers.
This fall, Metcalf will be among the riders trying to establish new speed records at the World Human Powered Speed Championship in Battle Mountain, Nev. She hopes to go more than 60 mph.
David Long, a sophomore in aerospace engineering from Lawrence, Kan., will also ride during the week-long Human-Powered Speed Championship. Andrew Sourk, a graduate student in aerospace engineering from St. Joseph, Mo., is leading the design of a brand new vehicle for Battle Mountain.