Construction to begin on Missouri S&T Innovation Park
Construction is set to begin this month on the first building of a planned research park on the Missouri University of Science and Technology campus. Called Innovation Park, the facility will be located on the campus' southwest corner. Missouri S&T recently awarded the design-build construction contract for the first building to Brinkmann Constructors.

The building will be a single-story general office building with approximately 22,750 gross square feet.
It will be located on the northeastern corner of the research park on land that is currently part of the driving range of Missouri S&T's golf course. When completed, the building will provide roughly 18,500 square feet of office suites and shared office space for tenants. Construction is set to begin at the end of March with a completion target of October 2010.
The concept for a research park on the campus of Missouri S&T has been a topic of discussion for more than 10 years. Missouri S&T Chancellor John F. Carney III formally proposed the idea in October 2006 and university officials presented a plan to the University of Missouri Board of Curators. It was approved by the Curators at a meeting on the Missouri S&T campus in April 2007. Following a series of public meetings with the city of Rolla and Phelps County to gather input to the research park master plan, all comments were gathered and sent to the Board of Curators, which approved the master plan and covenants for the research park in July 2007.

"In 2008, plans for Innovation Park were in danger of stalling because of the economic downturn," says Keith Strassner, director of the Missouri S&T office of technology transfer and economic development.
However, the effort picked up steam in June 2009 when University of Missouri System President Gary Forsee, a 1972 Missouri S&T graduate, asked Carney to assess the viability of using funds from the University of Missouri System's construction financing bonds to fund the first facility. In August 2009, the Curators provided approximately $3.25 million in bond funds to Missouri S&T to finance construction of the first building at Innovation Park.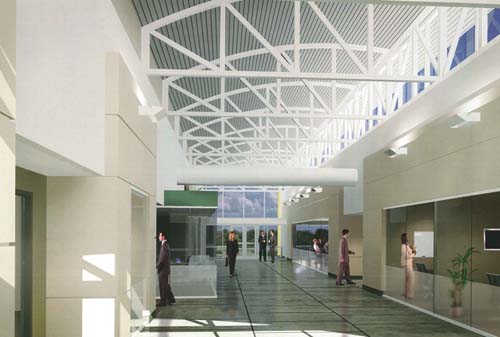 Approximately 26 design teams submitted Statements of Qualifications (SOQs) in response to a request for qualifications that Missouri S&T issued in October 2009. A campus selection committee invited four of the 26 potential design teams to submit proposals for the first building. In January 2010, the selection committee chose a team led by Brinkmann Constructors and TRi Architects.
Currently, Missouri S&T has tentative commitments from a handful of companies for approximately 60 to 70 percent of the leasable space. Companies interested in leasing space in the office building should contact Keith Strassner at Missouri S&T's Office of Technology Transfer and Economic Development at 573-341-6725.