S&T student uncovers human side of mobster
He was a notorious mobster and killer, but Benjamin "Bugsy" Siegel was also an affectionate father and a charming ladies' man, and was generally liked by the people of Las Vegas in the 1940s.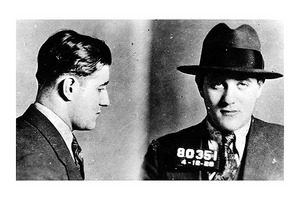 This human side of Siegel was discovered by Amanda Kamps, a student at Missouri S&T, who has been researching recently declassified FBI documents regarding Siegel during his Las Vegas years.
Kamps, a senior majoring in history from St. Robert, Mo., will present her findings at the Fifth Annual Undergraduate Research Conference on April 8 in the Havener Center.
Kamps studied documents scanned from original transcripts. The documents included transcripts from bugged phones and agents' notes. "The documents reflect the time period and what was important to them," says Kamps. "However, it omits things that were common knowledge at the time." She also discovered much of the information was blacked out. "Some pages were entirely blacked out." Kamps discovered she had to fill in the blanks with additional research on her own.
Her research seeks to demonstrate that Siegel moved to Vegas to become legitimate. He was involved in operating The Flamingo Hotel, which brought business, jobs and attention to Vegas. "People were willing to ignore things about him — like being a murderer," says Kamps. "Women were charmed by him, and people just tried to avoid angering him."
Kamps also discovered phone transcripts of affectionate exchanges with his children, and evidence of neurotic behaviors. "He got a manicure and a haircut every other day," says Kamps. "He was very concerned about his appearance and was meticulously clean."
Kamps has been working on the project for two years under the guidance of Dr. Larry Gragg, chair and Curators' Teaching Professor of history and political science at Missouri S&T. "Amanda is very bright and concerned about the detail," says Gragg. "She has the right mindset to be a good historian."