Glenn Miller Orchestra returns to Rolla for matinee on April 16
The Glenn Miller Orchestra will return to Missouri S&T for a matinee performance on Thursday, April 16. Prior to the performance, a brunch will be served at 11 a.m. at the Christ Episcopal Church at 1000 N. Main St. The concert will be held at 1 p.m. in Leach Theatre of Castleman Hall.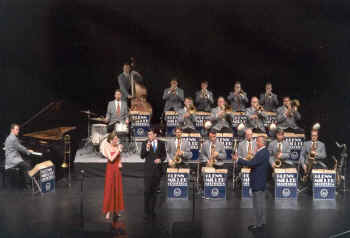 Tickets for the brunch are sold out; however, tickets remain for the concert at $25 each. Discounts are available for groups of 20 or more. For more information call the Leach Theatre Box Office at 341-4219.
The legendary Glenn Miller was one of the most successful dance bandleaders in the Swing era of the 1930s and 1940s. The Miller Estate authorized the formation of the 19-member orchestra in 1956, and it has been touring ever since. With its unique jazz sound, the Glenn Miller Orchestra is considered to be one of the greatest bands of all time.
In the event that tickets remain for the concert, Leach Theatre will offer discounted tickets through its "Back Row Club," one hour prior to the event. The seats in the last row of the theater will be sold one hour before the event for $10 each.