Sharing a passion for mathematics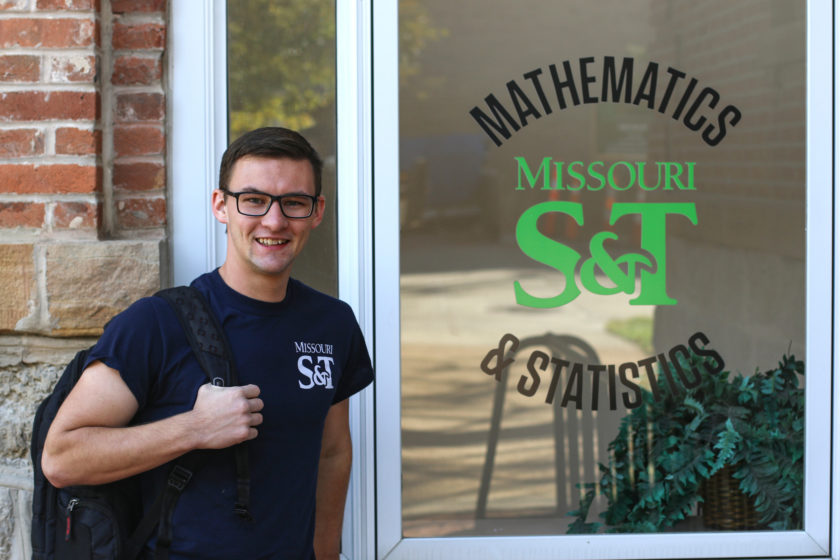 When St. James, Mo., native Tyler Glidden graduated from high school, he wanted to be a chemical engineer like his uncle. And he wanted to earn his degree from Missouri S&T because he knew S&T had a great reputation for engineering.
But it only took one mathematics course to change his mind – Calculus III with Dr. Reginald Brigham. Brigham, a lecturer in mathematics and statistics at Missouri S&T, holds bachelor's master's and Ph.D. degrees in math from S&T.
"No one loves math more than I do," says Glidden, who is now a junior in applied mathematics.
Despite the change in major, Glidden says leaving S&T was never an option.
"I stayed at S&T when I changed my major because I loved the atmosphere and the people I met during my freshman and sophomore year," he says.
Today, Glidden works in the new student programs office as a Preview Registration and Orientation (PRO) leader.
"Being a PRO leader is one thing that made a huge impact on my college career," Glidden says. "As a team, we put together orientation for all freshman and transfer students. I'm so much better at introducing myself and talking to people. Being a PRO leader teaches all those soft skills that I never thought I would develop."
When he isn't studying or guiding new Miners, the former high school football player and pole vaulter enjoys spending time outdoors, and gets back to the track whenever he can.
"I am a volunteer coach for the track and field team at the St. James high school," Glidden says. "I get to work with the pole vaulters and guide them to success."
That experience will come in handy in the future. After pursuing a master's degree in his field, Glidden wants to teach math and coach track and field.
"Hopefully I am able to share my passion for mathematics with a wide variety of people," he says. "There just aren't enough people who appreciate math, and I want to change that."