Missouri S&T aerial robotic team to race drones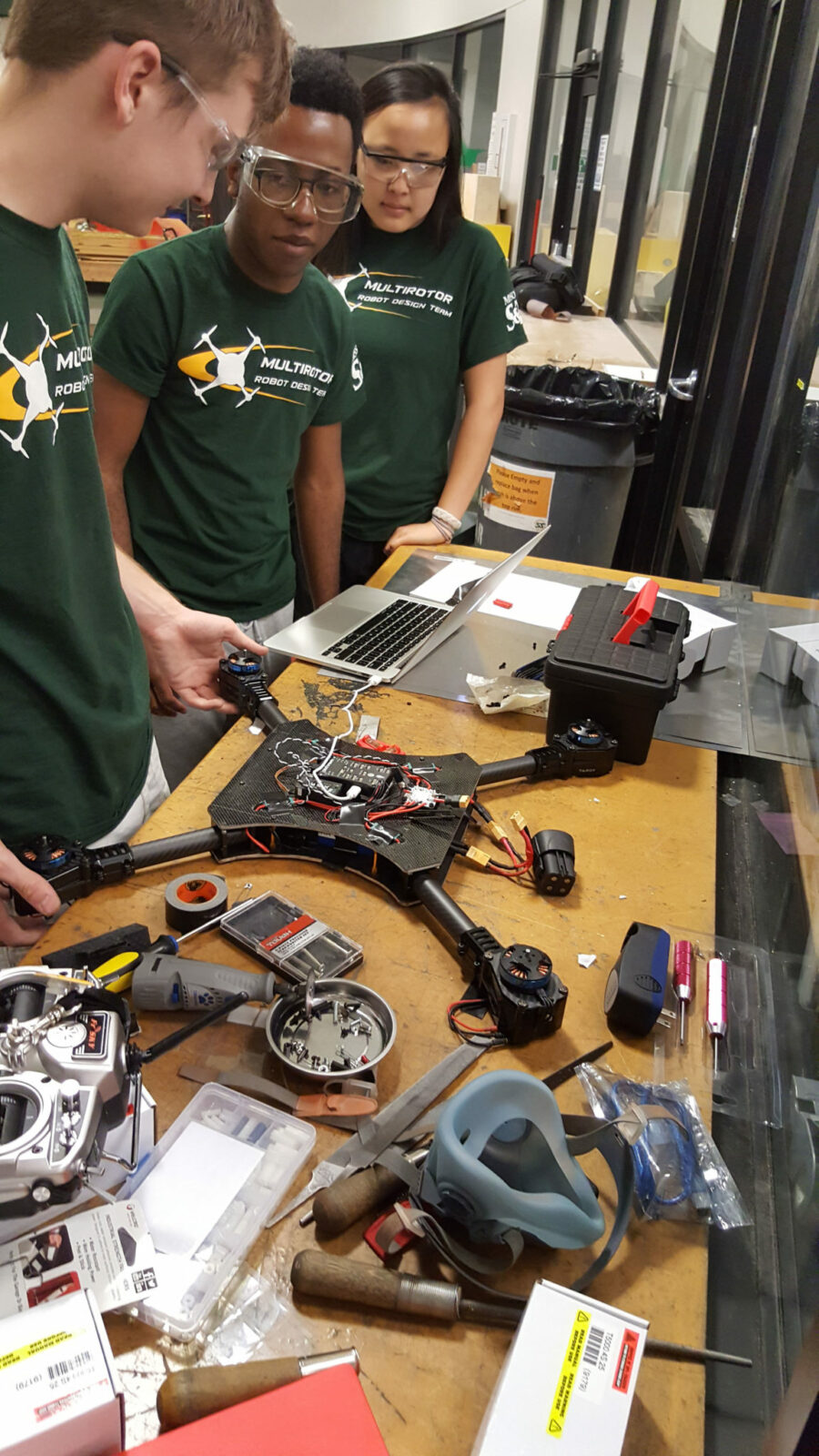 Near the end of July, a team of students from Missouri University of Science and Technology will compete in an intercollegiate aerial robotics event that some have described as a complex chess match for drones. The drones are designed and built by students, including their custom electronics.
The International Aerial Robotics Competition (IARC) will take place July 25-27 at Georgia Institute of Technology. This will be Missouri S&T's first entry into the competitive scene of flying robots. At this year's event, Missouri S&T's Multirotor Robot Design Team will use an autonomous aerial robot named "Sentinel" to guide ground-based robots to a specific side of a playing field. The drones must navigate autonomously through an unknown terrain and obstacles, and locate other robots.
Each year, the IARC develops a new challenge that is considered "impossible to complete" by any devices currently owned by government or industry. In last year's competition, robots had to locate an opening in a building, enter without being detected on a surveillance camera, navigate crowded hallways and reach a particular room without bumping any walls or landing. From there, the robot had to locate a particular paper inbox containing a flash drive, retrieve the flash drive, replace it with an identical blank flash drive and exit the building – all within a short time span.
Sentinel is the first aircraft the team has designed specifically for the IARC. It includes on-board electronics such as a flight control board that allows it to navigate without direct human control, an obstacle-avoiding LIDAR system, and a camera and image processing system. The drone will use the camera, combined with computer software, to identify and target the ground robots that are a part of this year's competition. Sentinel is made of a carbon fiber base plate and uses lightweight metals to connect its parts for superior strength.
"The robots used in this competition are far more advanced than just any drone that can be purchased on the market," says team founder Jonas Buxton, a sophomore in electrical and computer engineering from Lake Saint Louis, Missouri. "They are designed to do things that no drone has ever done before."
The Multirotor Robotic Design Team is one of 18 student-run teams in Missouri S&T's Student Design and Experiential Learning Center (SDELC). The SDELC, housed in the Kummer Student Design Center, provides real-world team-based operations, including computer design laboratories, a manufacturing shop, office space and logistical support. Design teams mirror small start-up companies that plan large-scale projects, organize into departments, raise funds, communicate their ideas and solve open-ended design challenges. Most teams compete annually against other collegiate teams from around the country and the world. For more information about the teams, visit design.mst.edu.
For more information about the team, visit multirotor.mst.edu.