Microgrid unveiling at Missouri S&T's Solar Village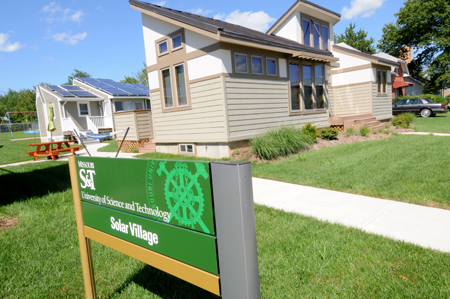 A microgrid that connects the Solar Village — four student-built solar houses at Missouri University of Science and Technology — will soon begin operations to manage and store renewable energy among the four homes.
A dedication ceremony for the microgrid will be held at 1 p.m. Thursday, July 17, at Missouri S&T's Solar Village, located at 810 West 10th St. in Rolla. The ceremony is open to the public.
After a brief presentation, visitors can tour the Solar Village, ask Solar House Design Team members questions about living in the homes and learn about the team's participation in the 2015 Solar Decathalon.
The microgrid will serve as a research instrument for Missouri S&T professors and students with the goal of analyzing the abilities of small-scale mircrogrids. Students living in the four solar houses will monitor the results and demonstrate how people interact with a new system of energy management.
"Power companies are interested to see if microgrids are the future for power distribution," says Tony Arnold, assistant director of the office of sustainable energy and environmental engagement. "Renewable energy generation and storage could be the next big way to provide electricity to a community."
In addition to the dedication of the microgrid, Missouri S&T Chancellor Cheryl B. Schrader will announce that the university has signed a statement of purpose with the Alliance for Resilient Campuses (ARC). ARC is an initiative from Second Nature, a nonprofit corporation that works with universities to promote environmental sustainability. This partnership with ARC continues Missouri S&T's commitment to become a more efficient and eco-friendly campus.
"The microgrid and ARC partnership are a great opportunity for Missouri S&T to stay at the forefront of environmental technology research," says Arnold. "The Solar Village is the ideal place to study small-scale grids and their many benefits, which we hope to see in the near future."