New steelmaking chair appointed
Posted by Andrew Careaga

On January 30, 2014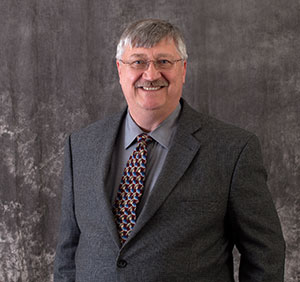 Dr. Ronald J. O'Malley, the former chief metallurgist at Nucor Steel Decatur in Trinity, Ala., has joined Missouri University of Science and Technology as the new F. Kenneth Iverson Endowed Chair of Steelmaking Technologies.
The Iverson Chair was established in 2006 through a $2 million endowment from Nucor Corp., the United States' largest steel company, and named in honor of Nucor's founding chair.
O'Malley also serves as director of the Kent D. Peaslee Steel Manufacturing Research Center. The center is named after S&T's first Iverson Chair, who died unexpectedly on May 17, 2013.
"We are very proud to have Ron join our faculty," says Dr. Wayne Huebner, chair of materials science and engineering at Missouri S&T. "He is a world-renowned leader in steelmaking practices and research who brings a wealth of experience from industry to our metallurgical engineering degree program. His strong connections with the steel manufacturing industry and the metallurgical engineering profession also make him a perfect fit for this new role. I look forward to Ron's contributions as a teacher and researcher."
"I am very excited about being a part of an outstanding team here at Missouri S&T," O'Malley says. "Both the department of materials science and engineering and Missouri S&T share my philosophy that the fundamentals be taught to ensure our students have the best possible foundation for their education. I also appreciate the strong partnership Dr. Huebner and his faculty have developed with our industry partners through programs like the Peaslee Steel Manufacturing Research Center, and I look forward to working with industry to develop research projects that not only meet their needs, but also excite them, and serve as a teaching vehicle for our students."
O'Malley earned his bachelor of science and master of science degrees in materials engineering from Drexel University in 1978 and a Ph.D. in metallurgy from the Massachusetts Institute of Technology in 1983. His teaching and research interests include process metallurgy, continuous casting, high-temperature thermochemistry metal-slag-gas systems and reaction kinetics in those systems.
O'Malley served as chief metallurgist for Nucor Steel Decatur from 2002 until joining Missouri S&T this January. At Nucor, he was responsible for quality and metallurgical development at all Decatur operating units – from steelmaking to casting, hot rolling, cold rolling and galvanizing. He also served as a consultant to all Nucor facilities in the areas of steelmaking and casting.
A member of the Association for Iron and Steel Technology, O'Malley received AIST's Distinguished Member and Fellow Award in 2012 and the AIST Presidential Citation in 2013. He currently serves as chair of the AIST Continuous Casting Committee. Previously, he served as the Conference Planning Committee chair for AISTech 2013 and chair for the Materials Advantage Committee for 2013. He also is the lecturer for two AIST short courses: "Continuous Casting: A Practical Training Seminar" and "The Making, Shaping and Treating of Steel."
O'Malley previously served on the AIST Board of Directors as liaison for the CCTC and the Ladle and Refining Technology Committee. He also currently serves on the selection committee for the FeMET and StEEL student scholarships and the selection committee for the Elliot Lectureship Award.
The F. Kenneth Iverson Chair of Steelmaking Technologies was endowed by a gift from Nucor in 2009 to support the education and training of student engineers in areas of steel-related manufacturing. The Steel Manufacturing Research Center (PSMRC) is a university and industry research consortium founded by Peaslee to advance steel research in areas pertinent to industrial manufacturers.
"We congratulate Ron on his appointment as the Iverson Chair of Steelmaking Technologies. Ron has been an incredible teammate and made many valuable contributions to our company," says Nucor chairman, president and CEO John Ferriola. "While his departure is a loss for Nucor, we are excited that he will be mentoring the next generation of steel industry leaders and conducting research that will spur the next wave of innovation in the steel industry."
Looking for something?
CASE Department News
CEC Department News
Kummer College Department News